If you're an incoming college freshman, summer break is the perfect time to start purchasing your college dorm essentials! Looking back, this was one of the most exciting times for me. It's so much fun planning how you're going to decorate your room and buying aesthetic and cute dorm supplies. My biggest advice for you is to start shopping EARLY! You don't want to wait until the last minute when everything is out of stock and you're stressed out because you're starting college. In this post, I've rounded up the top 10 college dorm room must haves that you HAVE TO BUY! These 10 items aren't one of those things where you buy it and never use them again. I used these 10 items on the daily in college and cannot recommend them enough.
If you want a more comprehensive list of EVERYTHING you need to pack for your dorm in 2020, click here! It includes a FREE printable dorm packing checklist.
GET YOUR FREE COLLEGE PACKING LIST TODAY
Trust me. This free college packing list will make packing so much easier for you! Click the button below to receive it directly in your inbox.

---
Here are the Top 10 College Dorm Room Must Haves!
1) MATTRESS PAD
DO YOURSELF A FAVOR AND GET A MATTRESS PAD.
COLLEGE BEDS ARE UNCOMFORTABLE, BUT THE TOPPER WILL GIVE YOU THE BEST SLEEP!
Trust me. After sleeping on a mattress pad, you will thank me later! The pad is just an extra layer of padding that you can put on your bed like a bed sheet. It will make your bed softer and more comfortable, which is important because good sleep is a necessity in college. NOTE: buy one with a fitted sheet to make sure that it is snug on your bed.
The mattress pad that I had was the Exceptional Sheets Bamboo Mattress Pad on Amazon, and it made my bed feel like I was sleeping on a cloud! This mattress pad was made out of a bamboo cooling topper since memory foam tends to overheat while you sleep. It never got hot with this mattress topper, even when I was sleeping on the top bunk. This mattress pad is a bit pricy ($90.99), but it is worth it in the long run, especially if you are going to be living on a college campus for more than one year. You can also pass it down to younger siblings when they go to college! In case you're not willing to spend that much, I've linked some cheaper alternatives below that were rated over 4 stars from thousands of reviewers.
✓ Like a cloud with unbeatable comfort and gentle support.
✓ Cooling bamboo topper makes it breathable
✓ Filled with Revoloft, a state-of-the-art fiberfill that has the feel of authentic goose & duck down without the feathers, poking or allergies
✓ 100% Hypoallergenic
✓ More sizes available
---
2) MATTRESS PROTECTOR
This might be a bit TMI, so brace yourself. Honestly, you don't really know how well the college will clean your bed before you move in. If they'll even do that at all!
THINK ABOUT ALL OF THE POTENTIAL DUST MITES, BED BUGS, DIRT, AND BACTERIA THAT MAY BE LIVING IN THERE.
You MUST protect your sheets and YOU from them! That's why I highly recommend buying a mattress protector as the base layer before adding your mattress pad, sheets, and blankets. Even if you don't end up purchasing a mattress pad, please buy a protector for your own peace of mind! I've linked some highly rated ones below from Amazon. Both are also waterproof and hypoallergenic!
---
3) BED CADDY
Bed caddies are detachable storage pockets that you can hang over the side of your bed. This is especially useful if you are on the top bunk because it can be a hassle going back and forth to get stuff at night! It's also useful for making sure that you don't lose anything on your bed, such as phones, sleeping masks, ear plugs, etc. Before I would sleep, I would put my phone, alarm clock, and books in the bed caddy.
---
4) LED LAMP
An LED lamp that can change brightness and warmth is a MUST have for studying in college. Here's why:

Lighting is an important factor for an efficient study session.
A lamp is useful when you need to study late at night while your roommates are sleeping
Lastly, LED lamps don't overheat like bulb lamps do, which is a major plus.
I've been using my Ultrabrite LED lamp for the past three years, and I love having the freedom to change the light settings. All of the places I've lived in had different lighting, so it's nice to be able to adjust the lamp to fit the place. Also, the Ultrabrite LED lamp had a fan, 2 USB ports, and adjustable neck! Unfortunately, Amazon doesn't carry it, but I've linked LED lamps that are very similar and highly rated below.
---
5) FACE MIRROR
When you live in a dorm, the mirrors provided are limited to the bathroom, which may be tight in space. If you want to do your makeup or skin care regime, the mirrors might already be taken by other girls in your suite. In addition, the bathroom may not be the best set up for doing make up. That's why I recommend that you bring your own face mirror to put on your desk. That way, you can do everything you need comfortably and in your own space. The mirrors come with LED lights and are the same price as those without!
---
6) BRING 2 FOLDABLE LAUNDRY BAGS
You're going to need a place to store your dirty clothes, so I highly suggest that you get a foldable laundry bag for those. You'll also want to get another laundry bag or foldable hamper for your clean clothes coming from the dryer. The reason why you should get foldable bags are because space is limited in a dorm! This will help you save as much space as possible. It's also easier on you while packing.
(Use this for dirty clothes. It has a drawstring, so your clothes won't smell up the room!)
Use the hamper for clean laundry. It's easy to carry to and from the laundry room.
---
7) LAUNDRY DETERGENT AND DRYER SHEETS
Out of everything on the laundry list, these are the most important! You can't do laundry without detergent and dryer sheets lol! If possible, buy these products in larger amounts ahead of time because you may not have the freedom to go to the store whenever you want as a freshman with no car. On top of that, campus stores are super expensive.
---
GET YOUR FREE BACK TO SCHOOL SUPPLIES CHECKLIST TODAY
Trust me. This free back to school supplies list will make shopping so much easier for you! Click the button below to receive it directly in your inbox.

8) MESH SHOWER CADDY
This is a MUST HAVE for showering!! Since the bathroom is a shared space, you don't want to leave your shower things there. This is where the shower caddy comes in! It's basically a little basket that you can put your soap in and then hang it on the shower's knob. I HIGHLY recommend getting a mesh caddy instead of a plastic one because it's easier to drain the water from the mesh caddy. You don't want to create puddles when you bring the caddy back to your room! Mesh caddies are also easier to hang in the shower.
---
9) SHOWER SLIPPERS
Since so many people use one shower and you don't know how clean the floor is, wear flip flops while you shower!
10) OVER-THE-DOOR MIRROR
Remember how I said that mirrors are limited in college dorms? Split an over-the-door mirror with your roommates so that you can always have easy access to a mirror to view your outfits! Since it's over-the-door, you'll also being saving space in your room.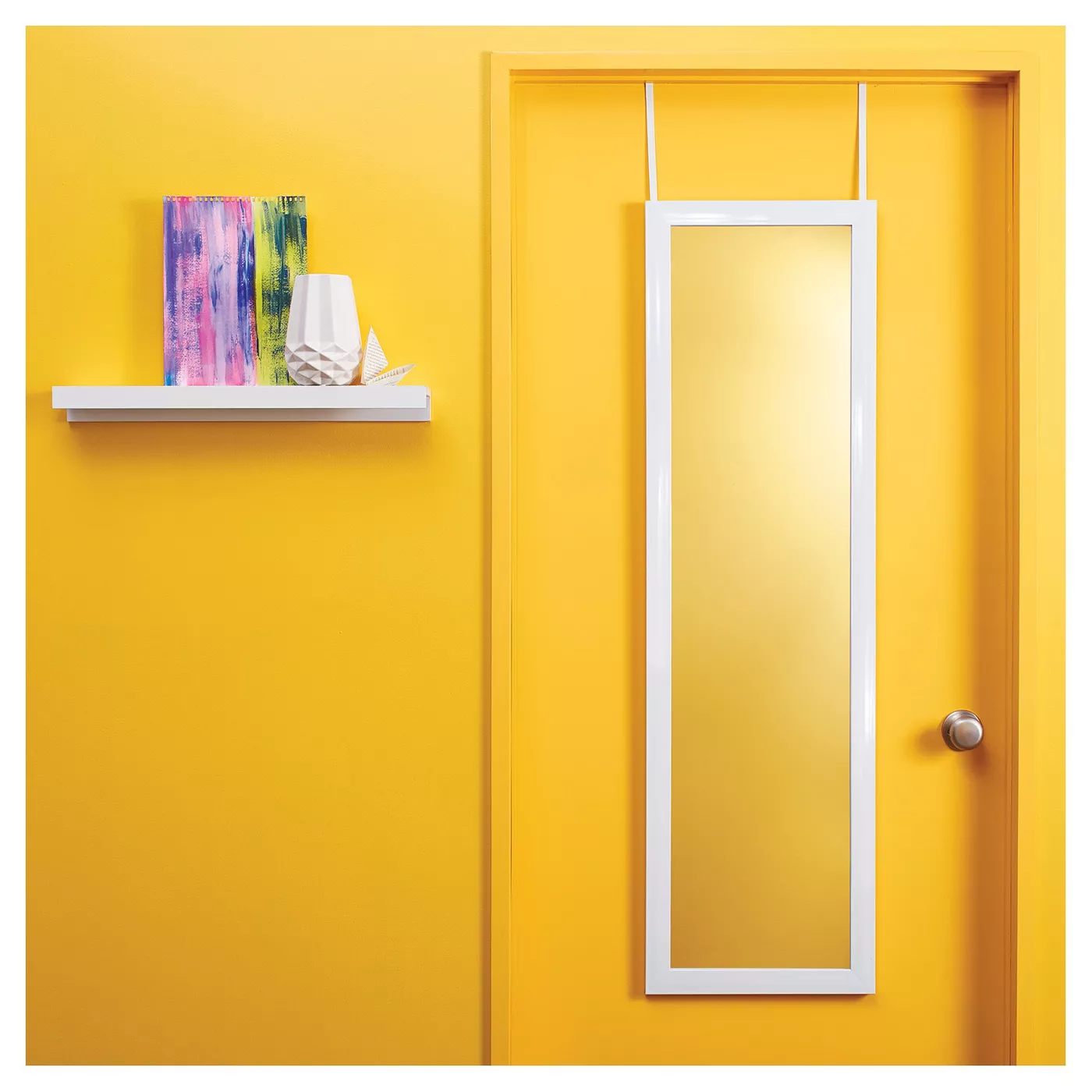 ---